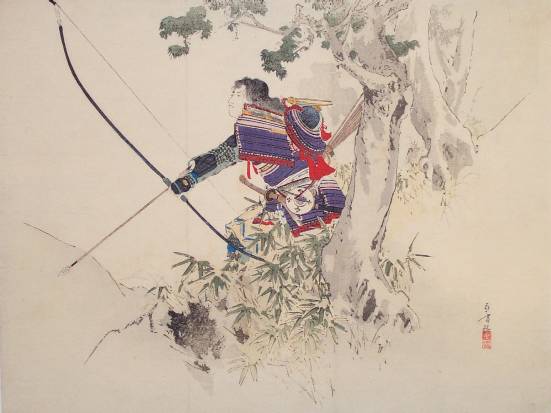 When lived in Japan I had some brief training in archery, Kyudo. Here is Austin Texas there is a wonderful teacher at the Shambala meditation center teaching classes in traditional kyudo. I attended a handful of sessions with him. While I enjoyed the lessons and I loved the weapon, I found something lacking. You see in kyudo there is a lot of talk about the shot not being important. In the club here in town, all the lessons are firing into a straw bail just a few feet away. The emphasis is on the meditation. The message is that there is a dignity in the bow and such concepts as speed, accuracy, range and power are not addressed. The tradition I trained in does not even want to be thought of as a martial art, they are a meditation group.
I love and honor the modern expression of the art of kyudo. It is as wonderfully complex as the tea ceremony. I see the wisdom in their thinking and ways. I however am a budo man. I wish to learn more of the traditions of kyudo, but my true goal is something different. I am budoka and my Zen is the meditation in the pursuit of hitting a mark. Efficient, smooth and powerful motion is what seek with the bow. I want to play the bow like a deadly instrument and relish in the jazz that flows from arrows flying through space.
Today, like all days now, I shot the bow. First I work on technique. I shoot arrows for accuracy, with ever increasing range. Then I see how fast I can fire 10 arrows and still have the technique to hit the target from close range. I walked briskly and fired the bow while on the move. I worked on facing opposite the target then I turned and shot. I fired the bow while walking towards the target, and retreating from the target. You will never find these methods practiced in a modern kyudo dojo. I bet samurai archers who fought with the bow trained far different than the modern artists do.
I appreciate the traditional, but often I desire training outside the parameters of traditional thinking and practice. I personally seek samurai archery - battle and hunting archery. The zen evolves through a habit of striving for martial perfection. In my art meditation need not be the primary goal. It happens naturally with every practice. I do not want a non-martial version. I seek the martial archery. In my humble opinion the bow is a weapon, not a meditation pillow. I seek to honor it as such.