Occasionally here at KyuRyu, I find a video that I feel is worth pointing out some training methodologies that I disagree with. I do not mean it as an attack on the artists or their art. I do feel is imperative we constantly look at our practices with the upmost of critical eyes. I give my sincerest thanks to the gentlemen in this video for sticking their necks out to let others learn from them. I offer up any of my videos for people to pull apart too, I have made some with some bad practice exposed. Such is the process of learning.
These gentlemen are going through the motions of their system's kata. They are relaxed, and practicing fitting in, so they are not taking falls. It is a little lazy, but I do that too.
I have two major criticisms of this video - constant distance testing, and an attack coming from a fully extended position from too far away.
(edit) It appears that they blocked having the video embedded.
CLICK HERE FOR VIDEO
In recent years I have seen some aikido organizations move to an ever increasing more contrived system of attack, or really uke delivering energy so technique can be made.
Let's look at the video. What do we see first as the two artists come together? They measure ma-ai, or their engagement distance. They both stick their arms out to make sure they are playing at the correct distance.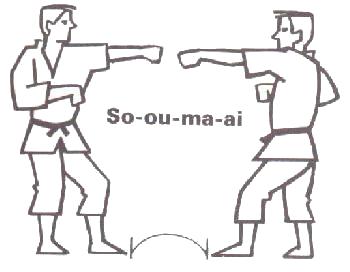 Measuring ma-ai is fine every once in a while if your distance calibration is off. I strongly disagree with doing it EVERY TIME during practice after an artist reaches gokyu level. This is beginner level stuff. Rather than having to measure distance an artist should have range so ingrained into their heads they naturally move to correct ma-ai every time. These gentlemen appear to be high level artists, so really they already know ma-ai, they are just going through a dance of needless motions. Checking ma-ai every time makes practice too easy and robs the student of the most important practice that aikido training should give - a natural and automatic use of space.
The next piece of technical criticism I would like to give this practice demonstration comes right after they check for ma-ai. The Uke, or attacker, leaves his arm out. The arm is already fully extended in an attack at the range of ma-ai. This is contrived and unrealistic. When someone wishes to strike something they do not first extend their arms - then move to break space. Really the way it happens is first an attacker must break space, then the strike is initiated. By practicing the way they are doing it, they are putting artificial, non-realistic parameters on their engagement. They are able to connect to a fully extended arm far earlier then they would actually be able to ever do with a real attacker.
When a real strike truly comes in, it will coming from a very different, and often unpredictable angle. The first motion the tori does in the film is a cross body balance break. It is very easy to perform this balance break with a static, unmoving arm traveling down one line from a great distance. Almost no attack a human being does to another will replicate these circumstances. I find these method of attack to be over simplified to the point of uselessness. When one of my Senseis first saw this, he called it a "dumb downed" attack. At my dojo we call it the zombie attack, denoting the rigid arms out motion of it.
In conclusion, we must train with safe, yet realistic attacks or we will start building system of false cause and effect relationships and body dynamics. Built into our system of attacks we must train our minds to process space quickly effectively and automatically. If we over simplify the training, we begin a process of robbing ourselves of the critical skills we most need to develop. Having automatic spacing and learning to intercept an arm appropriately are some of these critical skills.
Once again, a heart felt thank you to the fellows I am doing the technical criticism of. I am sure they are wonderful artists, and could probably kick my butt.