My mother art is Tomiki Ryu Aikido. It provides the structure of my learning, exploration and teaching of Aiki.
Kenji Tomiki studied deeply the principles of Aiki and eventually decided upon 17 main techniques to be employed in the Randori no Kata, also known as the Junana hon kata, or the 17. Similar to Kano's Judo, Tomiki tried establishing safe techniques that could be used in Randori style training.
He broke the 17 into 4 main divisions
1-5 Are the Atemi Waza, striking techniques - mostly entering techniques concentrating on a connection to the core of the body and head.
6-10 Hiji Waza, or elbow techniques.
11-14 Tekubi waza, or wrist techniques
Then finally, and most mysteriously we arrive to the final 3...
15-17 The Uki Waza The floating techniques.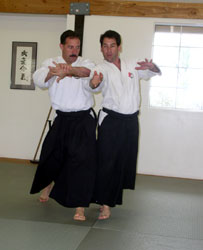 Floating techniques...what the hell does that mean? Surprising little has been written about them that I can get my grubby little fingers on - so using my own patented KyuRyu AikiBudo method we will unravel this mystery of the Floating techniques.
I suggest we first look at a few ideas of them
First pictures of Kenji Tomiki Sensei's
Mae Otoshi - forward drop
Sumi Otoshi - corner drop
Hiki Otoshi - pulling drop

Japan Aikido Association
Nariyama Sensei 8th dan
JAA uki Waza HERE!
British Aikido Association
BAA uki Waza HERE!
A few films from the Aikibudokan in Houston - now part of The Alliance, once Fugakukai members
Sumi Otoshi
Hiki otoshi
So now that we have a cross organization view of the technique, now we can explore the key concepts and ideas to figure out...what does it mean to have a floating technique???
-to be continued-