Ok, thought it was time to see my lil' dojo working on this stuff. Lowry Sensei and I had a discussion when he came down about forgetting all that arm twisting stuff in mae otoshi. I agree. Not only that, I have to believe that the arms are not important in these techniques. These are techniques of pure center. Don't worry I plan on supporting that statement.
Now check out this picture. A Jiyushinkai fellow. Good artists, but I challenge the notion of putting so much pressure on the arm.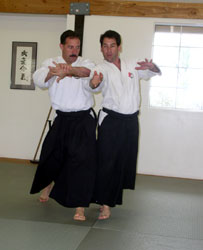 I don't even think my arm goes up that far. This stuff is supposed to be about centers...right?